Jack Barnes. Lamp made from salvaged wood.
Mimi Logothetis. Porcelain sake warmer and cups. Designed for people who are fidgeters.
Preston Montague. Codex Carolinum is a 26-piece illustration series designed to encourage natural science literacy and features native plants of North Carolina that have historically been used as food or medicine. Matted prints in two sizes. Cards which come with historical information about the plants.
Lori Vrba. "Blind Faith." Lori has a strong body of photo assemblage work and will be having a solo show on the main gallery wall for October 2019.
Jean Christian Rostagni. From one of the protest marches in Raleigh. Jean Christian has photographs from his extensive travels all over the globe. We have unframed images in different sizes of this and his other work.
Lauri Daughtry. "Reforget." Available as original and fine art print.
Noah Saterstrom. Leadbelly. 12 by 12 inches. To date, Noah has painted over 300 portraits in his Faces series depicting artists, scientists, scholars, and other people who have made a large impact upon the world through their work.
Claire Ashby. Algorhythms. Enameled jewelry. Backs and fronts have different color palettes.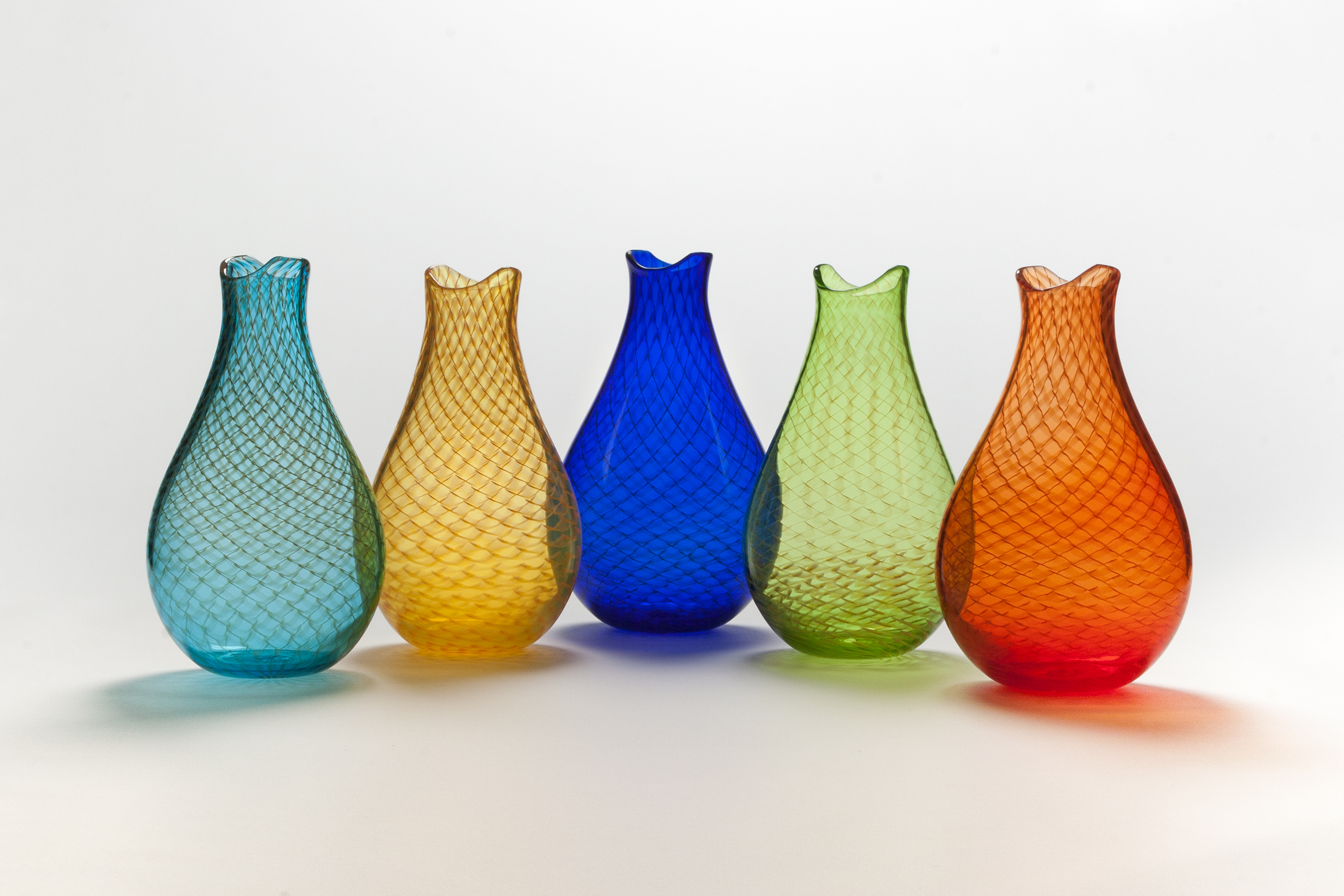 'Fishnet' vases by John Geci. John lives and works around the corner from Penland and we have vases and bowls in a variety of sizes and styles, tumblers, bourbon glasses, flasks, and decanters.
Trey Moore. Another NC State School of Design alum.
Broad River, 36 x 60 inches. Paint on canvas.
Bryce Lankard. Film-based photography from his long-running Drawn to Water series where he explores rivers, swimming holes, waterfalls, coastal areas, and more across the state.
Lisa Creed. A longtime Durhamite, Lisa Creed makes paintings, assemblage/sculptures, and has energetic works on paper from her Work a Day series.
Anthony Ulinski. Rocky Mount Mills. Painting from his landscape/building scape series exploring Eastern North Carolina.
Holden Richards. Large-format and wet darkroom prints from his hikes along the Eno River. These prints are exquisitely printed in the tradition of master darkroom printers like Ansel Adams and Paul Strand.
Pottery by Liz Kelly. Liz is from Raleigh, and we carry bowls, ring holders, plates, mugs, tea cups, shot cups, planters, and more here in the gallery.
Leah Foushee. Alice Avacado. cast steel from her button series. 11 x 11 inches. Leah resides in HIllsborough and along with her husband, Michael Waller, created Major Bull, the iconic and larger than life bronze sculpture of the bull in downtown Durham.
Henryk Fantazos. Copper plate engraving. This is one of ten images from Song of the Line, the 2007 H&B book which featured 20 years of poetry by his good friend Jack Gilbert. We have a range of Henryk's printmaking work here, both framed and unframed.
Janet Coleman. Another Antfarm alum who currently resides in coastal North Carolina and has been an active painter for over 30 years. We have original oil paintings as well as giclee prints of her work.
Abie Harris. One of NC's living legends, this retired NC State campus architect has been painting from the same Cameron Park homestead since 1959 and we have many unframed works, including his watertower series, and a plethora of landmark buildings across the globe, as well as a few framed pieces.
Jeana Eve Klein. from her French Knots series. 4 by 4 inches.
Jeana is a fellow Antfarm alum and an art professor at App State.
Gail Goers. From her Illuminated Pages series. I designed Muse, Gail's book of large-format photography from her travels in Germany and China, and we have several large framed prints in the gallery from that body of work.
Phil Blank. Ogeechee Until Death. 24 x 36 inches. Phil will have a solo show here in March where at least ten of his image/text combinations highlighting musicians or lesser known historical/social movements will be gathered. He has a flat file drawer stocked with work here that rewards digging around.
Al Frega. Side table made from salvaged flag staff from The Hill Building ( now 21c Hotel) and naval ship remains.
Caitlin Cary. Yes, the musician is also an accomplished visual artist and has been producing an impressive series of landmark places and iconic musicians with her needlepoint collage technique. We carry originals and her giclee prints.
Sean Livingstone. 24 x 36 inches. From the collection of Michelle Smith who made the first artwork purchase here in the new gallery. Sean is an ECU graduate and currently lives and works in Raleigh.
John McWilliams. Wood engraving. Scream Echo. From the Sons and Father monograph I designed for his Halsey Institute of Contemporary Art exhibit. We have a range of framed and unframed work by this still active 84-year-old artist who celebrates his coastal South Carolina environment in his work.
Rob McDonald. From his Native Ground series exploring the birthplaces and workspaces of Southern writers. Rob and I have collaborated on two photography books to date, Birdhouses (out of print) and Poplar Forest (a few copies remain), two giclee/lettepress broadside editions, and he has many framed and unframed works in the gallery.
Melinda Rittenhouse. Collage. In addition to prints and cards, Melinda has handmade journals in the gallery.
Catharine Carter. Cocoon. photomontage. In 2016, I produced a 112 page fine press book, Journey, along with a giclee/broadside letterpress edition. The gallery also features work from her mixed media paintings.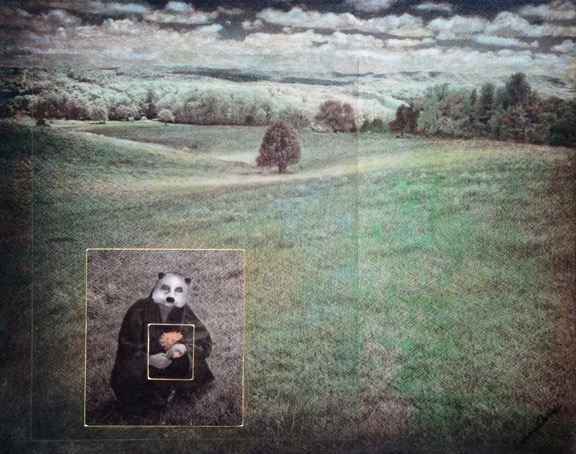 Catharine Carter. Spirit Bear. mixed media.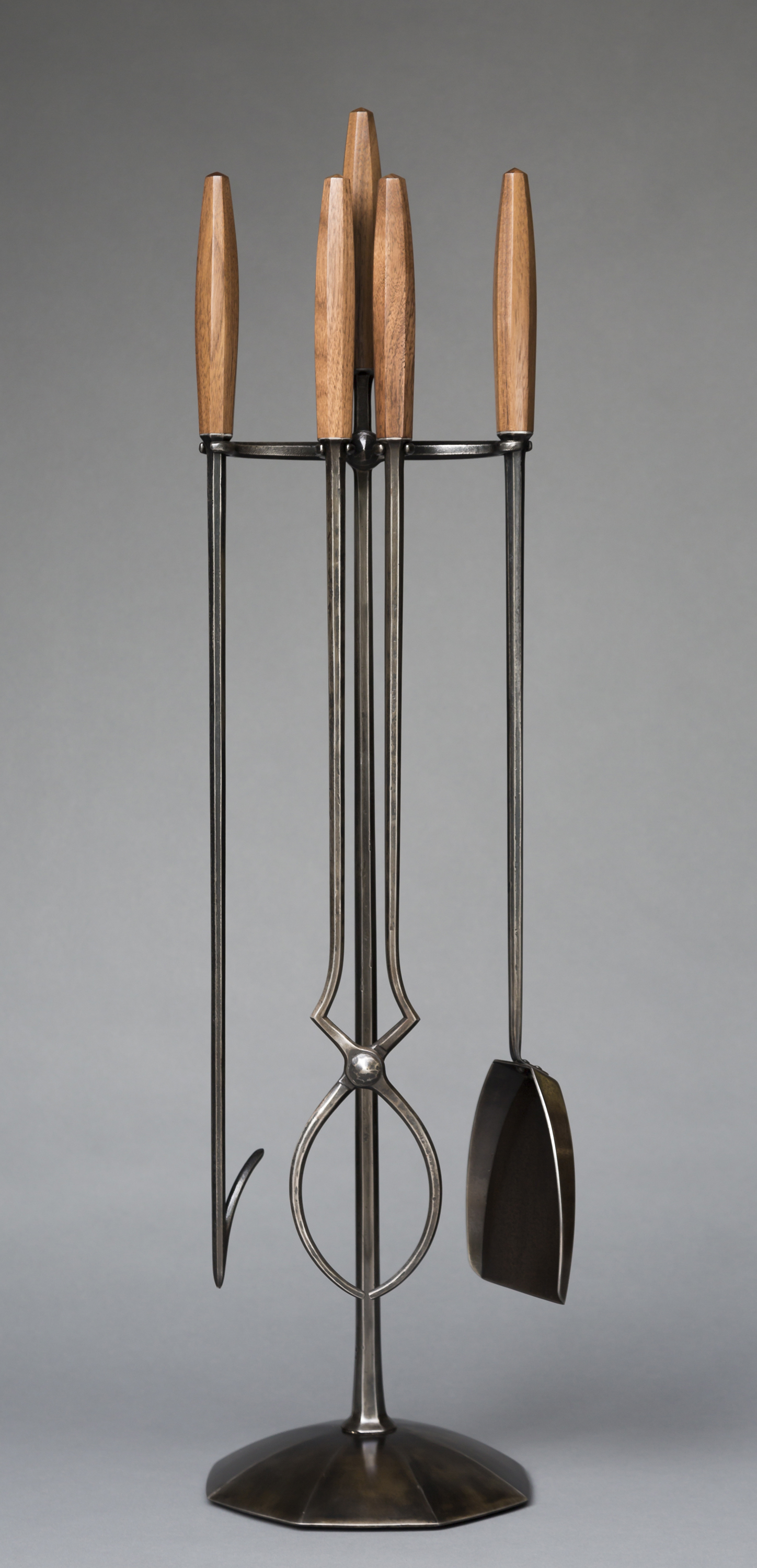 Ben Galata. Another former Antfarm alum (who still lives and works in Raleigh); much of Ben's work is exquisitely hand-forged, including the door pulls and pushes on our storefront doors. Photo by Raymond Goodman.
Becky F. Broun. Becky has a mix of assemblages, functional books, and hinged, jewelry boxes in the gallery.
Erica Gimson. Textile cyanotype print. Erica had a two person exhibit here in March/April along with her husband Sean Livingstone (paintings) and we are delighted they both left behind a small number of works
Dawn Surratt. Dawn's work weaves together connections between loss, healing, and spirituality through images, books, and photography-based-installations. She will be part of a two person show (with Lori Vrba) during September and October.
Rachel Goodwin. Corrugated. Detail. Acrylic on upsampled scrap wood substrate.